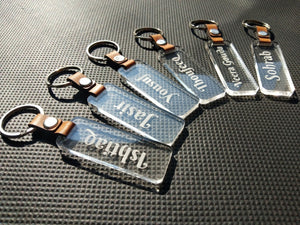 The perfect keychain for minimalist travellers. If you love travelling and minimalism, then this keychain will perfectly complement your passion for travel. And more than anything else, you can engrave your name on it to make it exclusively yours.
Made from 5mm Acrylic
The loop colour is predefined
Dimensions : 9cm x 2.5cm
Delivery Time: 8-10 business days
Note : Acrylic material is prone to scratches and hence the keychain will develop minor scratches over time.
Keychain
Quality is good but instead of white the name should have been in dark colours